Collar – 12-13-inch: Lies comfortably on the neck Made of two or more strands Compliments an evening look Great style for off the shoulder and v-neck tops.
Choker – 14-16-inch: Lies just below the neckline Made of single or multi-strands Perfect for any time of day and occasion Great for a child's necklace.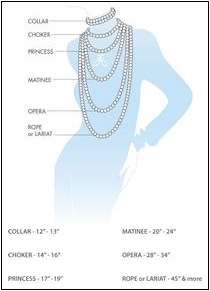 Princess – 17-19-inch: Ideal for both pendant necklaces and pearls Versatile length for both daytime and evening Compliments a crew neck and higher necklines.
Matinee – 20-24-inch: Longer than the princess Well suited for professional and casual attire Compliments a higher neckline.
Opera – 28-34-inch: A single dramatic length, or knotted at the neckline Ideal for classic or casual attire Works with both high or crew necklines.
Rope – Over 45″: A minimum of 45″ with clasps placed in strategic locations Can transform length into multi-strand necklace or bracelet combinations Will transform any outfit into an elegant style.
How to Determine your Bracelet Size: To determine the size bracelet you need, measure the distance around the wrist of the person that the bracelet is for by using a non-stretching string or a piece of paper that is about 1/4 inch wide. Wrap this completely around the wrist at the wrist bone. Mark with a pen or narrow marker where it makes a complete circle. Measure the distance marked in inches or inches and a fraction of an inch if not an exact number of inches. Add about 3/4 inch to 1 inch to the distance around your wrist so that the bracelet has room to move. If you like a rather loose bracelet, add a little more than an inch. Use this resulting value to find a bracelet whose indicated size (at the end of the bracelet description) is nearly the same as the size that you determined that you need.
A basic measuring guide: Petite: 6 1/4 – 6 3/4 inches Average: 7 – 7 1/2 inches Generous: 7 3/4 – 8 1/4 inches Remember, for bracelets with larger gemstones, allow for a little more wiggle room. The majority of our bracelets fit within the average size.